Acorn Nuts

Used For Decorative & Safety
Applications When Mating
Threads are Exposed.
Coupling Nuts

Internal Threads at Both Ends
Allows Joining of Studs & Bolts.
Finished Hex Nuts

Most Common & Versatile
Style of Hex Nut.
US Made Options Available.
Heavy Hex Nuts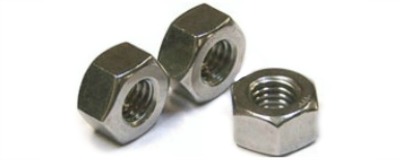 Thicker & Wider Across The Flats
Than Standard Hex Nuts.
In Steel, Grade 5, Galvanized & Stainless.
Hex Flange Locknuts

Hex Nut with Extended Flange Bearing Surface
-- Many Available with Underside Serrations
for Additional Holding Strength.
Machine Screw Nuts

Thinner than Finished Hex Nuts;
Used with Machine Screws.
Hex & Square Options.
Tee Nuts

Internally Threaded in 3, 4 & 6 Prong Style
with Varying Barrel Lengths.
Tinnerman-Style Nuts

Tinnerman Style Parts:
Cage & Clip Nuts, J Type,
U Type, Flat Type & Hat Style.